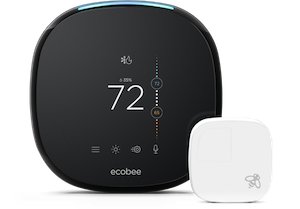 Effective Air's product spotlight featured during this time is the ecobee4 Thermostat. The ecobee Thermostat has the following features:
The Room Sensors help manage hot and cold spots of your home, delivering comfort to rooms that matter most.
Built-in Alexa Voice Service, so you can ask your ecobee to set a timer, read you the news, adjust the temperature, and more.
Far-field voice technology means your ecobee4 can hear you from across the room.
Easily adjust temperature and comfort settings from your Android and iOS devices.
Save an average 23% on heating and cooling costs each year. Learn more at ecobee.com/savings.
Ensures you're comfortable by using thousands of data points to adjust your home to the right temperature.
Get free monthly reports on how much energy you've saved and tips on how you can save even more.
Hardwired for reliability means ecobee doesn't steal power from equipment to charge itself.
Fast, easy installation you can do yourself. Use our handy step-by-step guide right on your phone.
Connects with your accessories to easily manage your humidifiers, dehumidifiers, and ventilators.
Call Effective Air at (847) 250-6107 to know more about the ecobee4 & the services we offer!