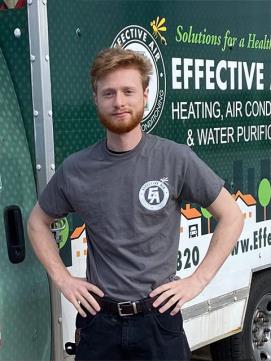 Danial - Technician
My Hobbies: Some might say I'm a jack of all trades, however, I really just enjoy learning or discovering new things in life. Fixing and/or building things for the house, cooking for the wife and kid (my dog really), biking, hiking, rock climbing, scuba diving. All in all my hobbies have always been about discovery and adventure while at the same time improving my understanding of life through my exploration, and loving what life can bring in the process.
Interesting Fact: I have a love and respect for animals, in addition to the bonds we can create, so I ended up with 7 types of animal. Dog (Iris), cat (Lila), hedgehog (Little Bean), gerbils (Mama & Baby), tortoise (Turtwig), two fish tanks, and a bearded dragon (Upi).
How did you find your way into the HVAC field? I originally was expecting to go into carpenter schooling, but one day while I was working at a Pet Supplies Plus, a manager at the time, a man came into the store with the biggest smile on face, he came up to me and I asked him why the big grin, he said "I am really happy in life. I love my job, love my wife, and honestly feel value in this life." I responded "I am happy for you, what do you do?" "HVAC, the kind smile man said. From there on, I had to join HVAC industry.